Zapier is a powerful tool to help your web apps work better together by streamlining your workflow. TickTick is now on Zapier, joining the 2000+ apps!
With the boom of app development, it seems almost all our work and life aspects are covered by apps. Whenever there's a need, there's an app. However, just as "there're a thousand Hamlets in a thousand people's eyes", each of us has our own unique workflow. Highly likely, this workflow will contain more than one app, because there is no one-size-fits-all solution. Instead of letting the apps scattered around, a resourceful integration tool is like a bridge, connecting apps and enhancing the efficiency of interaction.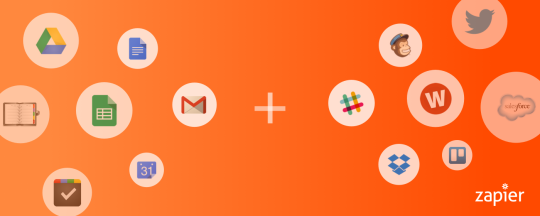 @Zapier
With TickTick + Zapier integration, you can accomplish more in less time. Simply set up TickTick as a trigger to fire when you add/complete a new task, or make TickTick an action to add a task in a specific list from other apps. Enjoy more control by configuring the list, tag and priority. Get more done with your very own customization:
🔫 Make TickTick as a Trigger
The Trigger fires every time you add/ complete a new task in TickTick.
You could also go further to have more control over the Trigger. For example, configure the trigger to fire only when:
- a task is added to a specific list/ the completed task is in a specific list
- a task is added with a specific tag/ the completed task has a specific tag
- a task is added with specific priority/ the completed task is set with a priority
After everything is set up properly, information such as task name, task content, Start & End Date will all be fired to the Action. 
🎬 Make TickTick as an Action
The Action will add a task in a specific list in TickTick.
Just like what you could do with Triggers, it's up to you to decide the list to which the task belongs, task name, task content, Start & Due date and priority. Here, two actions have recently been added: One is Add a task with file, and another is Upload a file. You can now enjoy more flexibility when connecting TickTick with other your daily apps!
Quick Setup Guide
To get started with the automation, please follow these three steps:
1. Sign up for a Zapier account, if you don't have one;
2. Search for "TickTick" Zap in your Zapier's dashboard; and
3. Inspired by some of the pre-listed apps and start creating your own workflow (or learn from a tutorial by Zapier) - done!
Free Premium Giveaway
To celebrate the integration with Zapier, we're going to give away two free TickTick yearly Premiums to two lucky participants.
To participate, all you need to do is:
1. Make sure you're a TickTick user
2. Share this blog on Twitter or Facebook with the #️⃣hashtag #TickTickZapier
All participants have an equal chance to win! We'll randomly draw from the full list by the end of this month: Tuesday, March 31st at 11:59PM PDT. The two lucky winners will be announced in this blog. We hope you enjoy TickTick's integration with Zapier and the best of luck to win free Premium!
———————-
[📣 Updates: Thursday, April 1st, 2020] The two winners of the #TickTickZapier Giveaway are @coconidodev and @vladossipov. Congrats! Premium will be arriving soon. Winners please keep an eye on your Twitter/Facebook messages.
Thank you to everyone for participating! Wish you're enjoying TickTick + Zapier integration.